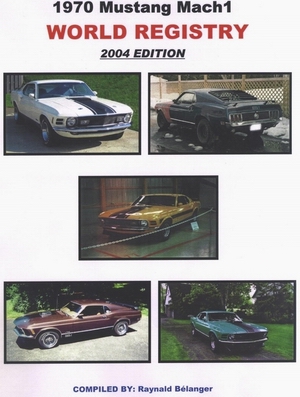 1970 Mustang Mach1 World Registry Book

&

1965-1973 Mustang & Shelby Body Tag Decoding Book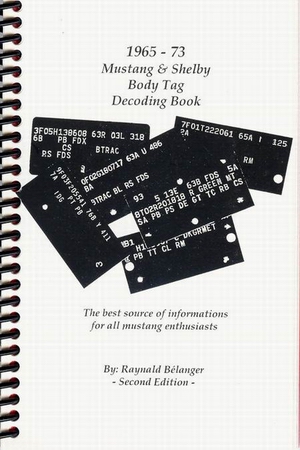 1970 Mustang Mach1 World Registry Book

This book with 60 pages contains production statistics, samples of original invoices, samples of built sheets, all 1970 Mustang Mach1 registred in the registry over 1,400, with complete serial numbers, data sticker descriptions, owners name and location and condition of each cars.

The price is $33 U.S each & $7 for shipping.

SOLD OUT

1965 - 1973 Mustang & Shelby Body Tag Decoding Book

This book contains various informations to help you to decipher and to decode most of all the codes of options as well as special paint codes. The purpose of this reference guide will help you to know the authenticity of your Mustang or Shelby.

This guide in pocket size with 42 pages contains various illustrations and informations necessary for you to be able to decode adequatly the codes punched on the body tag.

The price is $16 U.S each & $4 for shipping.

The profit of theses books is to keep the

1970 MUSTANG MACH1 REGISTRY SITE

AND SERVICES

Free for all 1970 Mustang Mach1 Owners & Enthusiasts

around the world.

Send your check or money order payable to:

Raynald Bélanger

31 Des Seigneurs #15, Boucherville,

Québec, Canada. J4B 6M3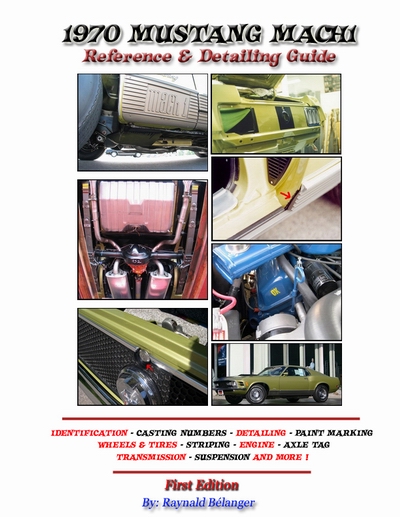 COMING SOON !

Detailing guide

online via website